With 'Trees First – The Public Spaces of the Forest-City', I have conducted research into the system and possibilities of the urban forest. I focussed on trees in the city as a starting point for better design of public space. I made a design for a range of public spaces that will be connected to each other in the future through the underground system of tree roots.
The project takes the very centre of Brussels as a case study for an urban forest to settle. A hidden water system, artificial topography and remains of the initial Brussels valley define a potential forest territory.
In the Boulevard Anspach, the river Senne is canalised 1 meter below ground. By separating rainwater and sewage water, there is an opportunity to create a water reservoir for the newly planted forest. Four main forest typologies are defined around the new water buffer zone.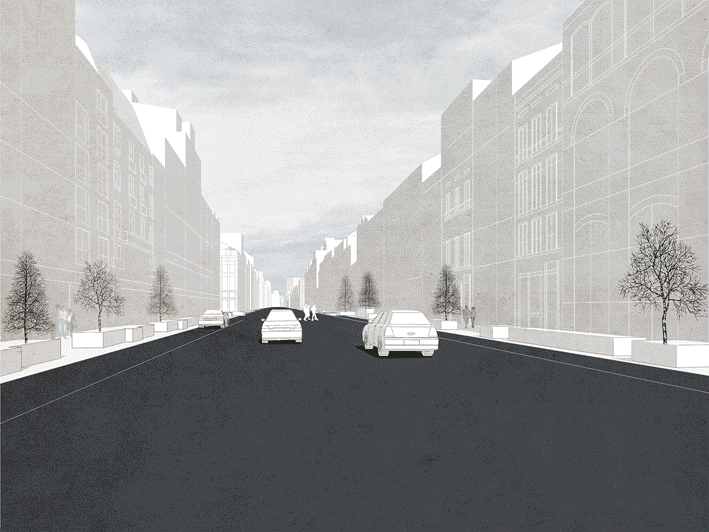 Contrasted seasonal changes from flood to extreme drought, green walls; clumps and open understory define the "Canyon Forest Boulevard". Here the environmental conditions are extremes and soil is limited for roots to expand. As a consequence, horizontal soil linearity is key for trees to build roots networks. Pioneer species such as Alnus cordata regenerate the soil fertility through symbiotic nitrogen fixation.
The "Hill Forest Square" can be found at the edge between the valley and higher land; a gradient of moisture defines a specific habitat where Tilia cordata is the key community species. Existing Tilias are seen as "Mother trees" and share resources with each other thanks to underground mycorrhizal networks. "Mother trees" help younger trees to grow by giving them nutrients through fungi exchange.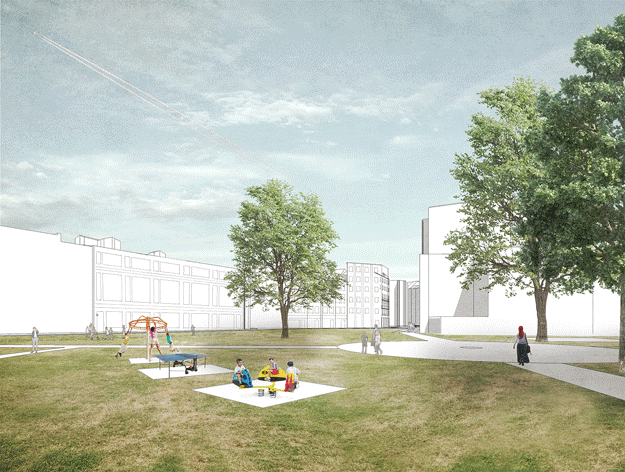 The Wetland Forest Park lies in the lowest part of Brussels; it is a mosaic of wet habitat to be found in the plain, the valley and the wet fringe. In this area, space and time is given for natural regeneration and forest succession to happen. "Veteran trees" will be ideal shelters for mushrooms, symbiotic bacteria, plants, lichen, moss and animals living around; that is to say for the biodiversity we need in our cities.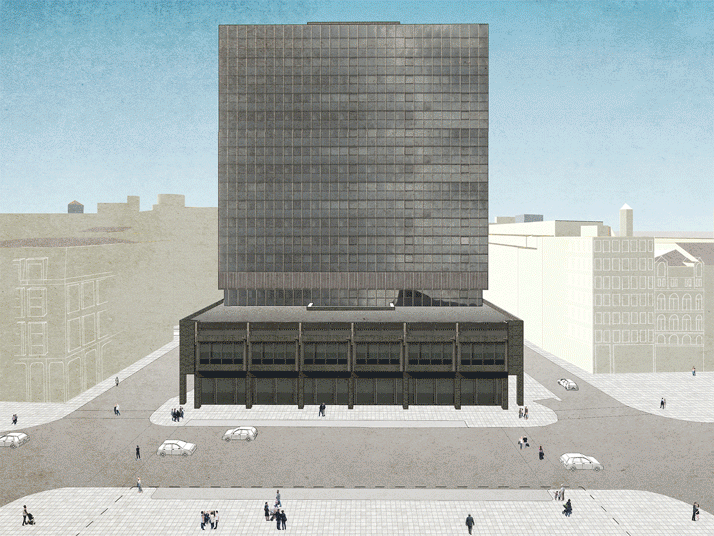 The Mountain Forest Towers is a vertical and contrasted territory where very specific and contrasted tree communities can survive. Buildings are reclaimed to collect water flowing within the vertical forest before reaching the underground Senne River.
"Trees First" explores the system of the urban forests underground world. It is a territory to be claimed where microorganisms will bring life to the public space of the Forest-City
Project data
Graduation Project - Master of Landscape Architecture: Project book 
Academy of Architecture, Amsterdam
Location: Brussels City Centre
Graduation committee: Jana Crepon, Wiebke Klemm, Mirjam Koevoet